Tomorrow You Can Exercise in Rome!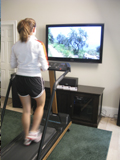 Increase your fitness while exercising in Italy! or in England! or in any of the beautiful world locations with our Treadmill Scenery DVDs or HD Downloads !
Exercise while traveling through beautiful scenery from around the world, as viewed on our DVDs or HD Downloads of scenic travel in Europe, Egypt and the United States!
Over 50 Videos To Choose From
You choose the DVD or HD Download for the scenery you want to view as you exercise on your treadmill, elliptical, stair stepper, Nordic Track, or indoor exercise bike. Exercise to maintain a healthy lifestyle or to lose weight, while viewing our DVDs or HD Downloads which take you through some of the most beautiful locations on Earth. Our DVDs or HD Downloads include travel through scenic locations in England, Italy, Egypt, and other beautiful countries in Europe, as well as travel through locations in the United States from Maine to Hawaii. Improve your fitness while maintaining a healthy lifestyle as you exercise while viewing one of our videos which have been filmed in many of the most beautiful locations worldwide.
Once you make your choice from among the scenic exercise videos we have available, you can walk or bike through enjoyable scenery as you improve your fitness, maintain a healthy lifestyle, or exercise to lose weight. You may choose to view one of our virtual experience walks as you exercise on your treadmill , elliptical, Nordic Track, or stair stepper, or you may choose one of our biking videos to enjoy while using your indoor exercise bike. You may also enjoy viewing our videos from the comfort of your favorite chair, allowing you to travel without leaving home. However you choose to view our virtual experience travel videos, you can imagine yourself on location with us in Europe, Hawaii, and other locations which are known worldwide for the beauty of their scenery.
Customers Tell Us...
That our scenic videos motivate them to exercise more regularly and more frequently, enjoying their exercise more as they travel via our videos. Enjoy YOUR daily exercise as you burn extra calories, lose extra weight, and achieve and maintain a higher level of physical fitness!
Select Your Destination
Select a DVD or HD Download from our catalog of videos which facilitate different levels of activity, while featuring enjoyable travel through many beautiful regions of Europe, the United States, and other world-renowned locations of attractive scenery. Enjoy worldwide travel on your treadmill, exercise bike, elliptical, or other home exercise equipment. Walk, run, or bike as you travel the world via one of our scenic videos which make exercising fun and enjoyable.